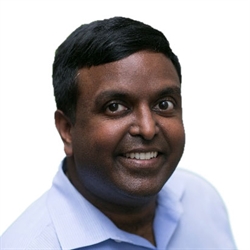 Sendhil Revuluri
Vice President
Sendhil Revuluri was appointed Vice President of the Chicago Board of Education by Mayor Lori Lightfoot and began serving on June 26, 2019.
Mr. Revuluri was a founding teacher at the Bronx Academy of Letters, a public secondary school in the South Bronx, where he was recognized as a Math for America Master Teacher. He subsequently worked in the CPS Office of High School Teaching and Learning and at the University of Illinois at Chicago as Associate Director of the Suburban Cook County Mathematics Initiative, a project for collaborative improvement in teaching and learning benefiting over 40,000 K–12 students in 40 public school districts.
Mr. Revuluri has served on a Local School Council, and on the board of the Illinois Council of Teachers of Mathematics, which recognized him with the Lee Yunker Mathematics Leadership Award. He currently serves on the boards of the Bright Promises Foundation and Math Circles of Chicago. He is a 2016 Fellow of Leadership Greater Chicago.
Mr. Revuluri is Managing Director of Strategic Development at PEAK6 Capital Management, an entrepreneurial investment firm that leverages technology to efficiently manage risk in the options market. He launched its internal Hackathon, leads other innovation projects, and supports the development of business strategy, as well as leading efforts for effective professional learning. Mr. Revuluri was previously an Executive Director of Equity Trading at UBS Warburg LLC in Chicago and Stamford, Connecticut, where he created instruments to manage risk and enable investment opportunities, developed and led new businesses, and collaborated to improve enterprise-level risk systems.
Mr. Revuluri was born in Chicago and attended the Illinois Mathematics and Science Academy, from which he received the Alumni Titan Award. He studied physics and mathematics at the University of Chicago and secondary mathematics teaching at Pace University.
Mr. Revuluri lives in Pilsen with his wife, Venu Gupta, and their two children, who are currently attending Chicago Public Schools.