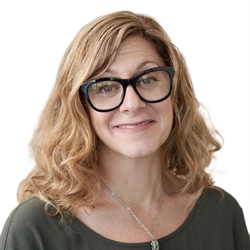 Amy Rome was appointed to the Chicago Board of Education by Mayor Lori Lightfoot and began serving on June 26, 2019.
Ms. Rome has dedicated her career to supporting all students and families to thrive, challenging systemic inequities that perpetuate gaps in opportunity within and across schools. For more than 20 years, she worked in and with Chicago Public Schools as a teacher, teacher leader, school leader, and principal supervisor.
Notably, Ms. Rome served as the principal of the National Teachers Academy, a Pre-K - 8th grade Chicago Public School on the near south side, where she worked closely with families and staff to create an inclusive environment amidst community housing transitions and community school closures, leading to significant gains in student achievement. Prior to transitioning from Chicago Public Schools in 2015, Ms. Rome supported eight Chicago Public Schools as a principal manager and worked with principals and their instructional leadership teams across a network of 32 schools. Ms. Rome also directed a graduate program at the University of Illinois at Chicago (UIC) focused on preparing teachers with a social justice curriculum to teach in underserved neighborhood schools.
Ms. Rome currently serves as the President of Leading Educators, a national non-profit organization that partners with school systems to accelerate educational equity for the students furthest from opportunity by strengthening teaching, conditions, and leadership. She was previously the organization's Chief Program Officer and Vice President of Design supporting the design, delivery, and evaluation of systemic, standards-aligned professional learning for teachers and leaders in DC Public Schools, Tulsa Public Schools, and New Orleans among other systems.
Ms. Rome holds a bachelor's degree in Chinese Language and Literature from The University of Iowa and a master's in Language Minority Education from National Louis University. She has completed doctoral coursework at UIC in curriculum and instruction and urban school leadership. Ms. Rome is currently an inaugural member of Equity Lab's Nexus Fellowship, a national cohort designed to help leaders activate enduring change around antiracism and equity.