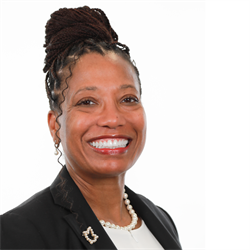 Tanya D. Woods was appointed to the Chicago Board of Education by Mayor Brandon Johnson and began serving on July 18, 2023.
Tanya is a licensed attorney in the State of Illinois who oversees all the operations, strategic direction and vision for the Westside Justice Center, and a holistic legal aid clinic in Chicago. She has served as the Executive Director for the Westside Justice Center almost since its inception in 2016. She is a certified Mediator and Trainer at the Center for Conflict Resolution and volunteers as a mediator in the most underserved courtrooms in the Circuit Court of Cook County. Once a public school Reading Specialist and Librarian, Tanya is now an Adjunct Professor at Loyola University, School of Law. As a seasoned professional, and before her career in the law, Tanya enjoyed successful tenures in higher education, government, tech, and non-profit sectors. As an active steward in her professional community, Tanya is a member of and leader in several bar associations, legal societies, boards, African-American civic organizations and a former Chicago Public Schools Local School Council Chair. Tanya has earned numerous awards in recognition for her work in building coalitions and expanding legal services to some of the most underserved communities throughout the state. Tanya is a proud alumna of Trinity High School, Northwestern University and Loyola University School of Law.
She marries her profession with her passions by dedicating herself to availing communities with much needed resources, illuminating pathways to reinvest in historically divested communitie,; advocating for basic human rights, and shining a light on systemic and structural racism. As Chicago's daughter, Tanya has called Garfield Park, Austin, Wicker Park, and Beverly her home. She is an engaged member in her community - you can find her enthusiastically participating in a block club meeting or attending a local neighborhood festival. To date, she counts her most valuable contribution as that of a widowed mother of two adult children: both products of the Chicago Public School system and now socially conscious trailblazers in their chosen professions.
Contact Board Member Tanya D. Woods at: twoods48@cps.edu