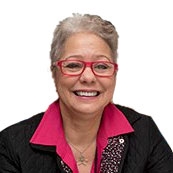 Luisiana Meléndez was appointed to the Chicago Board of Education by Mayor Lori Lightfoot and began serving on June 26, 2019.
Dr. Melendez is an Associate Clinical Professor at Erikson Institute and director of the Institute's Bilingual/ESL Certificate Program. She received her BA in Psychology in her native Dominican Republic and a master's in early childhood education and doctorate in child development from Loyola University Chicago/Erikson Institute. Before working in higher education, Dr. Meléndez worked for close to two decades as an early childhood and elementary teacher in the Dominican Republic and in the U.S.
Dr. Meléndez contributes to the Erikson Institute's academic programs through course work and initiatives that prepare early childhood practitioners to meet the developmental and learning needs of the increasingly diverse children and families in U.S. educational settings. Dr. Meléndez' academic work pays close attention to the particular instructional needs of young children growing up with more than one language as well as to the potential socio-emotional and cognitive advantages that growing up as bilingual or multilingual child or youth can afford. In addition to her work with current and future educators, Dr. Meléndez is particularly interested in how early care and education programs support emergent bilinguals between birth and age three.
Dr. Meléndez frequently presents in national as well as local conferences and has several publications on her areas of professional interest. In addition to her work in early childhood teacher education and professional development, Dr. Meléndez has been a member of the Early Childhood Committee of the Illinois State Board of Education since 2012. She has also served in several workgroups and advisory boards convened around issues of bilingual and multilingual development, as well as on the Board of Directors of El Valor. Dr. Meléndez has just concluded a term as co-chair of the Chicago Consortium for School Research Steering Committee.
Dr. Meléndez has resided in Chicago since 1996 and feels privileged by the opportunity to pursue professional interests that bring together her appreciation for cultural and linguistic diversity with her personal commitment to equity and social justice.